News from Maison de la Gare
14,779 Begging Talibé Street Children in Saint Louis
Tweeter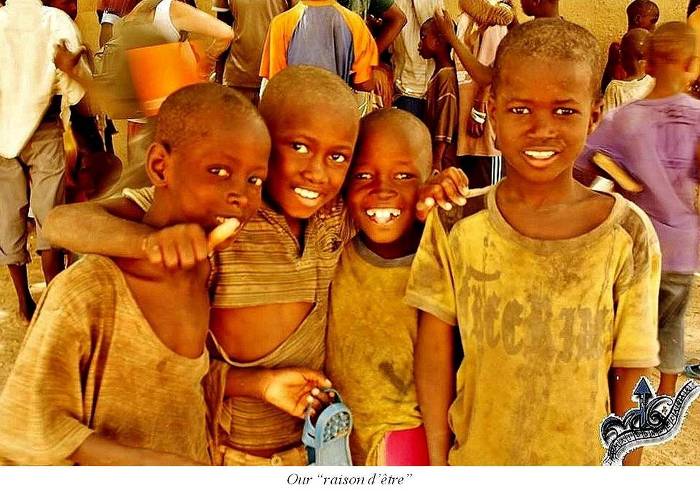 A first-ever comprehensive census answers the question,
"Who are the talibé children?"
Baye Ndaraw Diop was for many years the director of the Saint-Louis office of Educational Action in Open Environments (AEMO), the Ministry of Justice's agency that deals with talibé street children. Following his retirement from this role in 2015, Mr. Diop joined Maison de la Gare to lead our vastly expanded efforts to find, take charge of, return and follow-up on children living in the streets. He shares with us here his understanding of the "talibé" phenomenon, as well as the results of the first complete census of these children, which he led.

"Senegal's first school was established in Saint Louis in 1857. Since then, the government has made continuing efforts to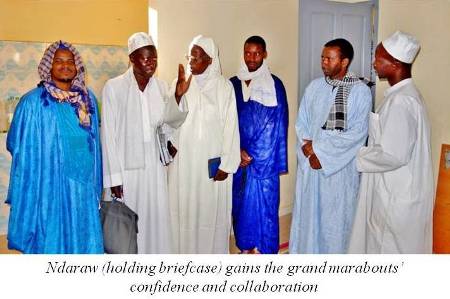 increase the number of schools and the quality of educational infrastructure.

Saint Louis is also one of the gateways of the Muslim religion. With the arrival of Islam, Koranic schools (daaras) were established in almost all the districts of the city. Since that beginning, the Koranic masters (marabouts) have continued to migrate to Saint Louis with their talibé "students" and to settle in provisional shelters and houses under construction. Understandably, the presence of thousands of young talibés has become a major concern for the community and for local authorities.

It's important to remember that, along with the family, French and Koranic schools play a central role in children's education, allowing the acquisition of knowledge in many areas of life. Such French and Koranic teaching thus enjoys great prestige, and every parent has the freedom to choose the type of education that they wish for their children.

However, the overwhelming presence of the talibés accompanying their marabouts poses serious problems for the care of these children. Despite the strong tradition of hospitality of the people of Saint Louis, with their system of helping particular talibé children as informal Godparents, unfortunately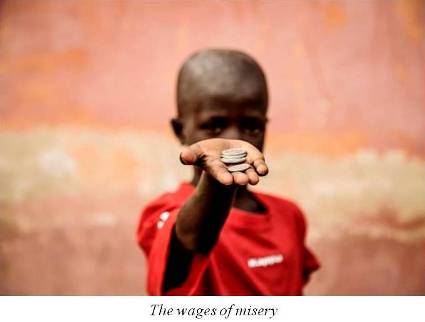 child begging has taken on very worrying proportions.

Mostly under 15 years of age, these begging children are very poor and live in extremely precarious circumstances. Often cruelly exploited, many are victims of child trafficking, sexual abuse and many other forms of maltreatment.

The number of children (talibés and other street children) involved in begging in the city of Saint Louis is very hard to estimate because of the clandestine nature of this phenomenon and the different situations and forms in which it develops. Trafficked children in Saint-Louis are mainly begging talibés who are particularly vulnerable because they are exposed to physical and psychological abuse, emotional shock, sexual violence and trauma of all kinds, and most of them are separated from their parents.

The purpose of this census was to catalogue ALL of the daaras in the commune of Saint-Louis. For each daara, we obtained the marabout's name and contact information along
with the number of talibé children in the daara and their status (internal - living in the daara, or external - living with their family).

We can't truly make progress on improving the lives of talibé children, much less eliminating the phenomenon of begging children, if we do not know the basic facts about the Koranic schools and the begging street children. This is why it was so critical for Maison de la Gare to carry out this census.

The work was carried out by a team of ten field investigators supported by five marabout-facilitators and five supervisors. Some problems were encountered with marabouts who did not want to collaborate on the pretext that they had been abused by investigators in the past. With the help of meetings between facilitators and the marabouts, it was possible to iron out most of these problems. In the end, 187 of the 197 daaras identified as having begging talibé children, 95% of the total, collaborated in providing census information.

The result of this census is that the number of begging talibé street children in Saint-Louis is fourteen thousand, seven hundred and seventy-nine (14,779).

The talibé children are very young, typically between 5 and 17 years old, with an average age of around 12 years. The vast majority of talibé children do not originate from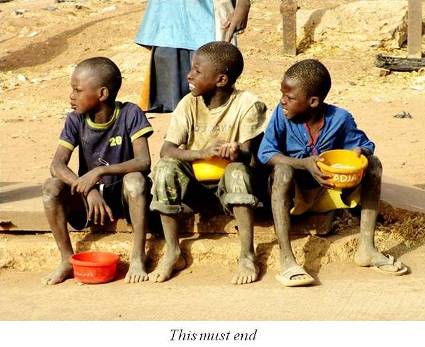 the Saint-Louis region, coming instead from other regions and neighboring countries.

Our field investigators saw again and again in their visits how the talibés live in very precarious housing and hygiene conditions with inadequate nutrition, and how the marabouts who act as their guardians subject these children to forms of extreme maltreatment, neglect and exploitation.

The results of this census have provided us with much improved knowledge of the daaras of Saint Louis and of the talibé children's living conditions, an essential starting point for appropriate measures to improve the lives of these unfortunate children."
________

This long-overdue census was made possible by a grant from the European Union, for which we are grateful. Our sincere thanks also to Ingrid Hägele, Ryosuke Nishimura ("Djibi Bâ") and Lydie Texidor for the powerful photographs illustrating this article, each of them telling its own story.