News from Maison de la Gare
A Volunteer with the Talibé Children
Tweeter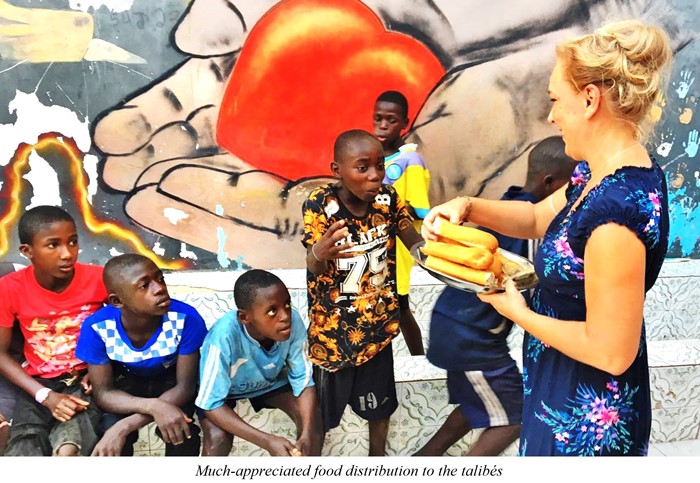 As the pandemic wanes, Maison de la Gare welcomes back its precious volunteers
It is hard to overstate the enormous contribution that international volunteers have made to Maison de la Gare and the talibé children, since our very beginnings in 2007.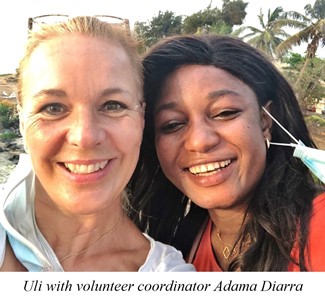 Ranging in age from 16 to 80, they have brought their energy, idealism and creativity, and they have given the children love, respect and full acceptance as their equals, a precious gift for the talibés who must beg on the streets every day.

Uli Henking is a 50-something mother of three boys from Bavaria in Germany, and she is one of five volunteers who braved the pandemic in 2021 to support the talibé children in Saint Louis. The others were Emmanuelle, an intern from France, Joseph and Steven, business students from the US who contributed to our microfinance program, and Jade, a film maker from Britain who spent four months as a driving force for several new projects.

In common with most volunteers, Uli contributed wherever she could help. She attended to children's injuries in the infirmary, helped with literacy classes,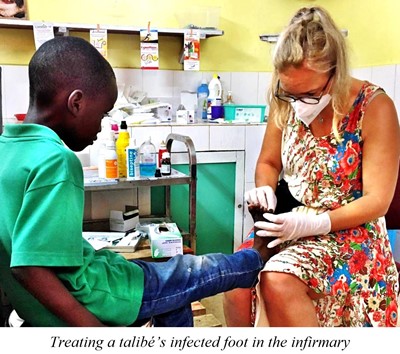 prepared and distributed food, led art activities in the classroom and games in the courtyard, helped children with their morning laundry and hygiene, and joined nurse Awa providing healthcare in some daaras. In Uli's words:

"Spending time as a volunteer at a place like Maison de la Gare is a profound and very complex experience that should be a must for young people growing up in Europe or other rich countries. It is an experience of the poverty and abuse that many vulnerable children must live with. And it is also an experience of how people living within this system can respond with their hearts, supporting and offering hopeful change to these brave children. Maison de la Gare offers these children a basic education and the chance of learning a trade.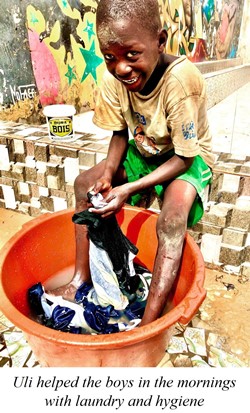 I strongly recommend volunteering. I hope to find many volunteers here in Germany who will seize the chance to embrace this experience and bring it back to Europe and to their future lives. Maison de la Gare is very well organized and volunteers from all over the world are warmly welcomed, well accommodated, and included in the daily work of the organization in a very meaningful way. The age of the volunteer does not matter at all. Whether they are alone or with a parent or a friend, they are welcomed in a warm and uncomplicated way!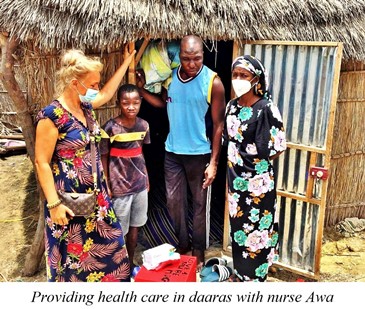 The intensive time that I spent at Maison de la Gare was for me one of the most meaningful times in my life. The harrowing living conditions of the children and the unbelievable energy and commitment of the organization's team left a deep impression on me. It is an honor for me to support this work."

Uli made some unique and lasting contributions to Maison de la Gare. She was concerned that the food that we give to the children every day did not include any fruit, and she was determined to change this. She made a personal financial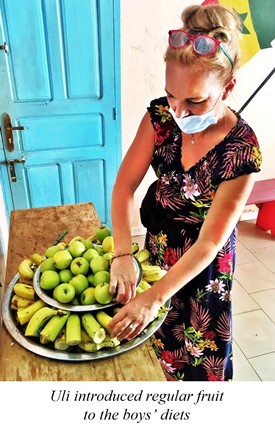 contribution while she was still in Saint Louis that allow us to begin including fruit in the children's daily diet. Then Sibylle, a friend of Uli's in Germany, made a very generous donation that has allow us to continue this through 2022. Uli also contributed after her departure to making the children's Christmas party possible.

Uli was very moved by the pride of our sewing apprentices in showing off the results of their work. It is a constant challenge for us to finance this program, and Uli decided to help by organizing sales in Germany. She took a selection of the apprentices' products home with her and prepared a very professional brochure to support sales.

We are grateful to Uli and to all our volunteers for their transformative contributions to Maison de la Gare and the talibé children. We hope very much that, as the shadow of the pandemic recedes, many more international volunteers will follow in Uli's footsteps.