News from Maison de la Gare
In Memorium - Djiby Aliou Sow
Tweeter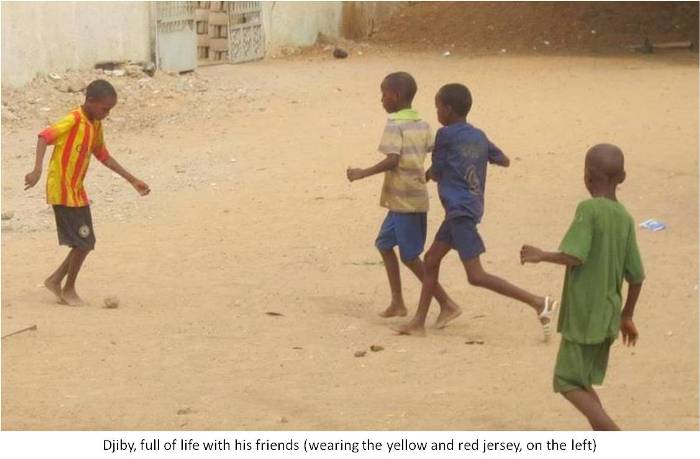 Our president Issa Kouyate writes: "Maison de la Gare must announce the sad news of a young child with tetanus who died 18 days after contracting the disease.

It was sad news for the talibé children who knew this child, who came from Dagana in the north of Senegal for treatment in Saint Louis.

The story began with a call from our administrator, Mapaté Bousso, telling me that a young talibé had arrived at emergency at the Regional Hospital of Saint Louis, suffering from tetanus and in very critical condition. We responded immediately, going to the hospital to learn what we could about the child's condition, and what we could do to support him in recovering his health as quickly as possible.

It's always hard to recover when you are suffering from certain acute diseases. After ten days of waiting in emergency, often on a respirator, we began to have doubts about the recovery of this child who by now had fallen into a deep coma.

His parents came from Dagana to offer their support during these difficult moments, prayers were offered every day, and Maison de la Gare was there to help in every way possible. However, at the beginning of the third week the disease worsened and, after 18 days, my phone rang at about 5 o'clock in the afternoon with the news of the death of this young man whom we had all hoped would return to life after his long stay in the dark. We all prayed that he would come back to us, but in vain.

We are determined to learn from this experience, so that it will not happen again.

Prevention is better than cure.

To all those who knew and cared for Djiby, we send our most sincere condolences. "

Mapaté went to the hospital every day to look after the Djiby's needs, and to local pharmacies to purchase prescribed medicines for him. He writes: "I think we all did our best to save him, but it was not to be. We must learn from his illness and do what is needed to protect other talibé children from this disease. "

Maison de la Gare has made tremendous progress in improving the quality of the lives of the talibé children it works with, through education, health care and deep human caring. However, we are not always successful. We know you share our deep sadness, and this gives us the strength to continue.