News from Maison de la Gare
A Bright Future Within Reach
Tweeter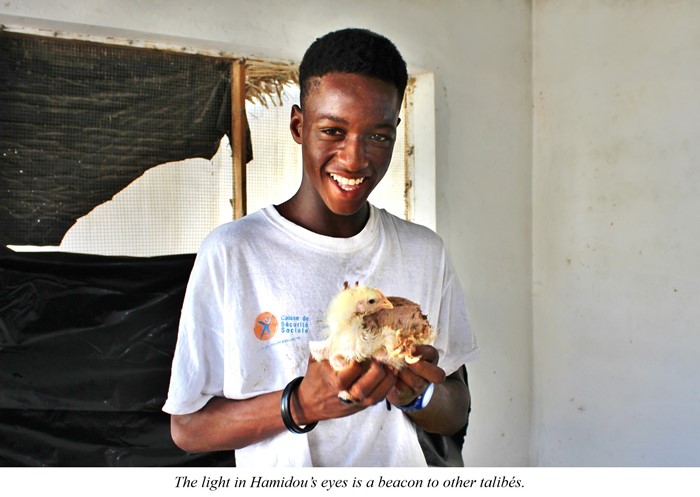 Hamidou lights the way …
Hamidou, a young talibé, lived a precarious existence in the heart of Saint -Louis., marked by trauma and a complex history. He is his parents' third child, and they sent him to Saint Louis to learn the Koran.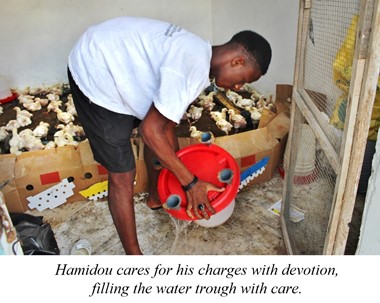 Hamidou was traumatized by his marabout's mistreatment. He was a young rural boy, and the change of surroundings affected him very much. He was used to working with livestock in his village, guiding cows and raising chickens. Now, he was separated from his parents and lived for five years without seeing them. One day, he had a severe problem with one of the older talibés. This landed him in hospital, as the older talibé had violently assaulted him because he hadn't memorized certain verses of the Koran.

Like many other begging talibé children, Hamidou heard about Maison de la Gare through the murmurs of mutual aid between comrades. This organization strives to improve the lives of talibés by offering them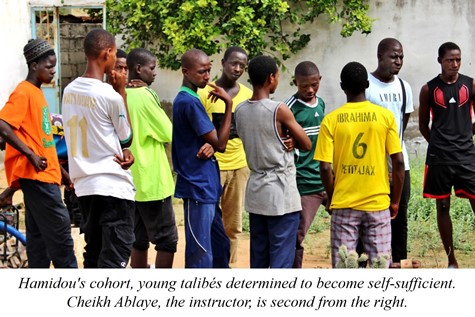 essential health and hygiene services, nourishing food, literacy classes and a sense of acceptance and community. But, for Hamidou, it was much more than that.

When he first walked through the doors of Maison de la Gare, Hamidou was looking for comfort and for help with his basic health and hygiene needs. But he soon discovered more possibilities. Over time, he became intrigued by the poultry farming apprenticeship program, a program designed to provide talibés with comprehensive training, from nurturing of the chicks to marketing.

It didn't take long for Hamidou to be seduced by this opportunity. He decided to enroll in the poultry program in the hope of having a better future. Understanding that this training could be the key to his financial independence, Hamidou shares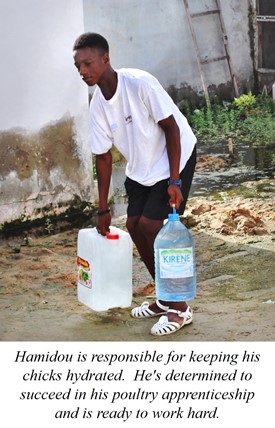 his enthusiasm, saying: "I see this opportunity as a ray of light, a chance to change the course of my life."

Maison de la Gare's poultry farming apprenticeship program doesn't stop at training. Once he has the necessary skills, Hamidou will have the opportunity to obtain a loan from the organization's microfinance program. Several graduates of the poultry apprenticeship program have obtained loans from this program, making it possible for them to start their own businesses.

Hamidou dreams of setting up his own poultry farm one day. With Maison de la Gare's support, he is convinced that he will be able to support himself without depending on begging on the streets of Saint Louis. "I want to become financially independent and contribute positively to my community," he declares with unwavering determination. The microfinance program has already helped several talibés realize their dreams of financial independence, and it is likely that Hamidou will successfully follow their lead.

Hamidou is currently pursuing his poultry farming training at Maison de la Gare, and his commitment to it is exemplary. He shows remarkable assiduity and is always present at the scheduled time. His determination to learn new skills to improve his life testifies to his commitment to a better future.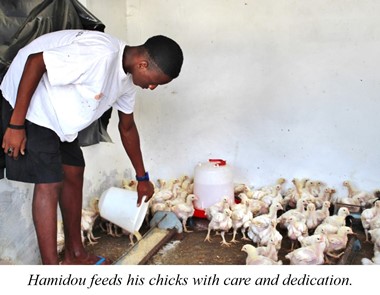 While working hard to become financially independent, Hamidou continues to attend Maison de la Gare regularly to receive medical care and help with personal hygiene, and to share his experience with other young talibés. He has become a mentor and an example to those who aspire to follow in his footsteps.

Hamidou's story embodies the hope and determination that are at the heart of Maison de la Gare's mission. His journey inspires not only other talibés, but all those who believe in changing lives and building a better future for the most vulnerable in our society. Thanks to programs like this one, the future of young talents like Hamidou is looking brighter, and their potential is being recognized and valued.
__________

The name of the talibé youth in this report has been changed to Hamidou.