News from Maison de la Gare
Three Girls at Maison de la Gare
Tweeter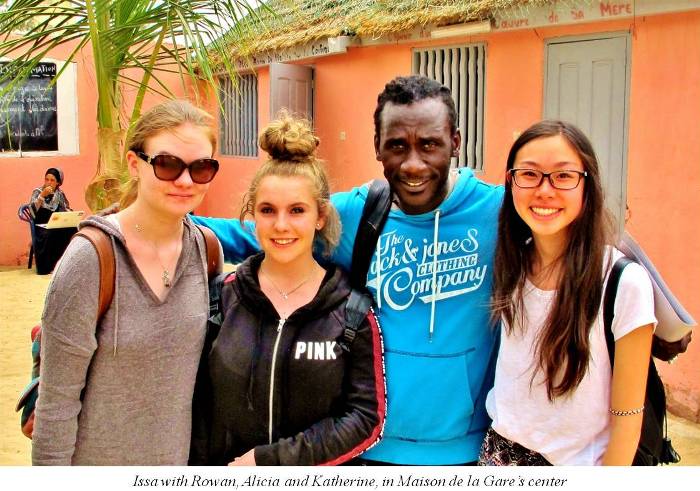 Arouna, talibé and Administrative Assistant at Maison de la Gare, reports on Canadian high school student teaching his fellow talibés
"Alicia, Katherine and Rowan are high school students from Ottawa, Canada. Alicia, 15, is a student at Glebe Collegiate while Katherine, aged 16, and Rowan,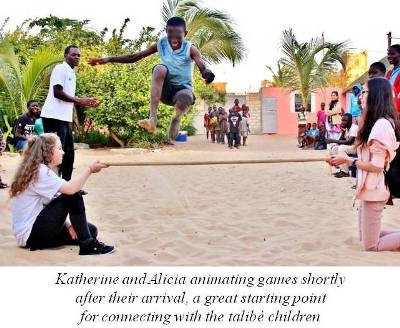 17, are studying at Ashbury College. The three girls came to Senegal in March, specifically to Saint Louis to visit our center, Maison de la Gare.

The three girls travelled with Katherine's father Martin and Rowan's and Alicia's moms, Sonia and Karen. They spent nine days with us at Maison de la Gare, but they also visited the city of Saint Louis where they met the talibé children begging and even living in the streets. The talibés live in extremely difficult conditions, walking barefoot in the streets wearing only rags, trying to get what then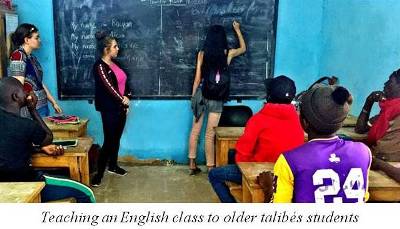 must give to their marabouts. Most of these children are between 5 and 15 years of age. They come from poor families far from the city, from distant regions of Senegal and from neighbouring countries (Casamance, Gambia, Guinea-Bissau, Guinea, Mali, etc.). Instead of teaching the children the Koran or giving them a good education, the marabouts use them to enrich themselves. The talibés are forced to live in very marginal conditions like abandoned houses where access to water and electricity, and even food, is very limited. And the health of these talibé children is severely compromised.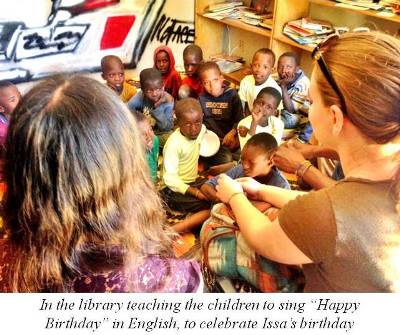 The first days at Maison de la Gare were challenging for the Canadian girls. We saw the concern in their faces, reflecting their lack of understanding of the children's situation. They felt badly for the children. And they did not understand what people were saying in the context of African culture. Their objectives were to share some of their knowledge with the children and to contribute to development and to the fight against child abuse.

They began by animating games in the center's open courtyard, and this proved very successful as a way to establish good connections with the children. Their goodwill and their desire to contribute were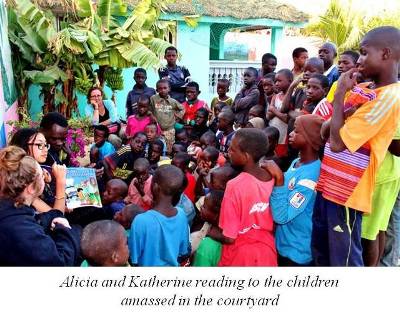 very obvious to everyone. After three days at the center, the girls began to talk with the children about their living conditions and other aspects of their lives, with strong support from teacher Abdou Soumaré and some of the older talibés. They taught English classes to older talibé children. Karen and Sonia were always close at hand to guide them, while Martin played the role of a wise grandfather. Outside the classroom, the three girls regularly read books to the children in the courtyard and in the library. Like children everywhere, the talibés love stories and identify themselves with great enthusiasm with well-illustrated books. They always crowded around in large numbers when the girls were reading to them.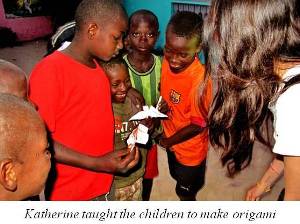 Katherine was able to share a special skill, creating origami birds, and many children were fascinated by the magic of this art. And the three girls were able to teach children crammed into the library to sing "Happy Birthday" to Issa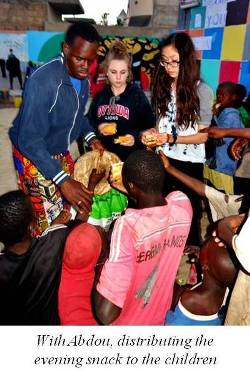 in English, to celebrate his birthday!

Despite the unthinkable conditions in which talibés live, these children always seem to have a ready smile and to be able to forget their life problems. They are very open to people who treat them with respect, and many of them rapidly became very attached to Rowan, Katherine and Alicia.

This visit to Maison de la Gare allowed Rowan, Katherine and Alicia to learn many things about the talibé children and Senegalese culture. They learned that there are thousands of young people who are suffering because of begging or poverty. This trip allowed them to understand better the complexity of what is happening in Senegal. To address this scourge, these young talibé children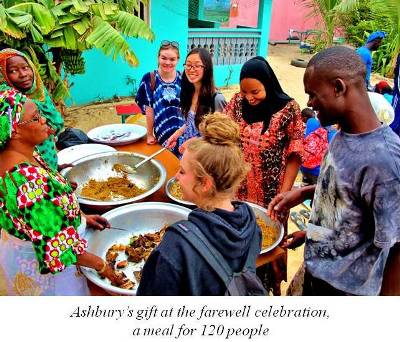 need help, protection and constant support in their fight against abuse. But they also need the support of centers such as Maison de la Gare so they can have a better future.

In conclusion, on behalf of all of the talibés and of Maison de la Gare, we thank you, Rowan, Katherine and Alicia, for this visit and for your commitment to the talibé children. We also express our thanks to Ashbury College in Ottawa which chose to give their students the opportunity to come to Senegal to visit us and to support us. And, finally, we call on everyone to join the fight against begging and against the abuse of talibé children, who are themselves the future.

Stop our brothers' begging."