News from Maison de la Gare
Is There Hope for Talibé Children to Realize their Dream of an Education?
Tweeter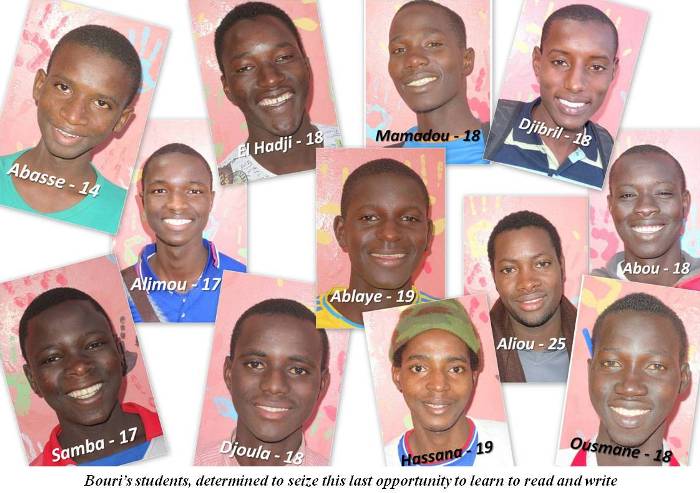 The children are ready, and Maison de la Gare is working to remove the obstacles
One of Maison de la Gare's objectives is to educate the begging talibé street children of Saint Louis, Senegal. Founder and president Issa Kouyaté has always believed that education is the key for these children. It is the key to hope for a better life in the future for themselves.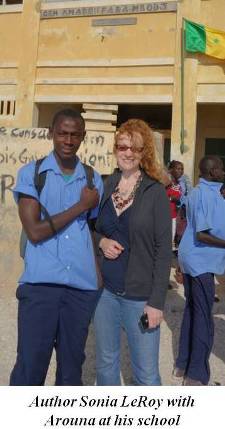 And, educated talibés can also be a key factor in the fight to end forced begging in Senegal. The informed are less willing to suffer exploitation, of themselves or in society in general.

Arouna Kandé is a shining example of this. Despite experiencing the exploitation of forced begging since early childhood until just last year, Arouna has studied for years. He was first taught by Maison de la Gare teachers, and later enrolled in the public school system, sponsored by Maison de la Gare. He is far older than the other children in his grade who were never forced to deliver a daily quota of money to a corrupt marabout. But this does not discourage Arouna. He hopes to advance to high school next year and, later, to university. His career hope is to become a writer. He is determined to inform the people of Senegal and the broader world about forced begging and the talibé system, and to help bring this exploitative system to an end.

Bouri M'Bodj Diop has been a teacher at Maison de la Gare since 2011, instructing talibé students who already had learned some basic French language skills. Bouri is currently working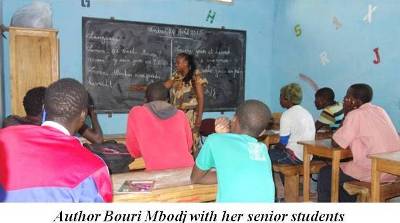 to prepare a group of nineteen talibé boys for the formal education system. It was not difficult for her to identify potential candidates. Many children, conscious of Arouna's shining example, are excited to have a similar opportunity for a formal education. To encourage her candidates to take their opportunity for education seriously, Bouri has given each student a backpack, pencils, and a notebook. This sets them apart from the other Maison de la Gare students and provides some extra motivation. As each child arrives for class, ready to work, their backpacks are proudly displayed.

Preparation for school, and enrollment, is neither easy nor straightforward. Many of the children are of an age to be high school students, and yet they will have years of formal education ahead of them before high school becomes an option. And, they will likely be the only talibés in their school, as Arouna was. This could mean discrimination and ridicule. But, they know that Arouna did it. And, they know they will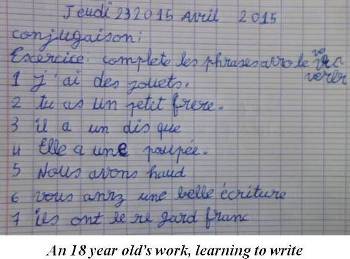 have his support and the encouragement of Maison de la Gare. So, they are keen to begin despite the challenges ahead.

Enrolling the children in school requires not just the educational preparation, but also organization of documents and acquiring necessary permissions. Most talibé children do not have documents of any kind. Birth certificates or other identity documents will be needed, and the permission of the marabout - who is legally recognized as a guardian in many cases - must be obtained. And, in the cases where parents are known in far off villages, their permission must be obtained. Often the parents and marabouts may not read or write themselves, let alone think school is a good idea.

If there is to be hope for enrollment of these children in September, Bouri and Issa must begin now, months ahead, to discuss with the marabouts the possibility of granting permission as well as a reduction in begging quotas for school days. The objective is always to avoid putting the child in conflict with his marabout. If there seems to be hope with the marabout, then the search for or creation of documents and photographs must begin. Visits to home villages may have to be made. Bouri thinks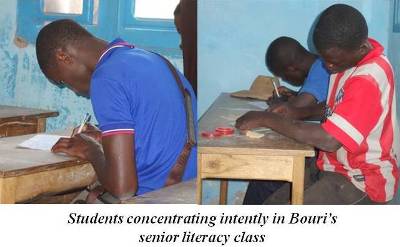 that more than half of her current charges will be ready for school this year. But, how many will have the opportunity to begin on time, given the challenges of enrollment?

Some of the talibés in the current preparatory class are ready to be freed from their marabouts. But this also presents complications. Sometimes being freed is automatic after a certain number of years of forced begging, ten for example. In other cases, at age 18. However, in most cases marabouts are reluctant to give up their sources of income or the "prestige" of having authority over a child, and they demand exorbitant bribes from the children in the form of a large final payment. Or, they will release them after age 18 but only if they return to their original villages, even if they have no families to return to. Unfortunately, despite the illegality of forced begging in Senegal, the authorities seem reluctant to intervene in these matters.

Another challenge for the talibés is that, once they are "freed" from forced begging and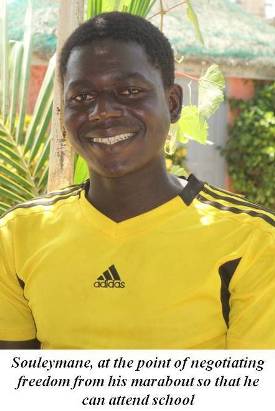 leave their daara, where will they live? Not yet having obtained the means to live an independent life, many children with the potential to be free remain in their daaras with their exploitative marabouts. The new Foyer de Transition in Maison de la Gare's centre is a solution for some of these boys. But, will the marabouts permit them to move in? If a child moves into the Maison de la Gare Foyer de Transition against the will of his marabout, all talibés from that daara will likely lose permission to attend Maison de la Gare programs at all.

Souleymane is ready for school, and excited to start. He is also "freed" from his marabout. However, he will likely have to return to the Gambia temporarily to officially end his marabout's authority over him. This trip will have its own dangers and complications for Souleymane. Will he be back to begin his formal education? As a trafficked talibé brought by his marabout from another country, will enrollment in Senegal's school system even be possible for him? If not, does he have any hope of for an education in his home town?

Maison de la Gare is helping the children navigate these challenges, to bring education to the talibés of Saint Louis.