News from Maison de la Gare
Five (!) Volunteers at Maison de la Gare
Tweeter
Changing the lives of the talibés ... and their own
May 2013 : Three volunteers arrived at Maison de la Gare, a French couple (Michaël Gobert and Gwen Gueguen) and a young American Madison Burgdorfer. All three chose to contribute in the health and education activities defined in Maison de la Gare's volunteer program.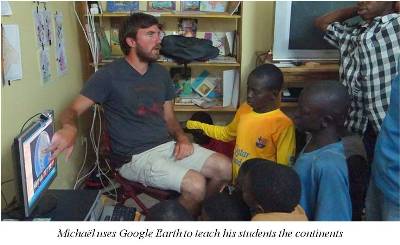 Each morning, the volunteers head out to daaras in Saint Louis to provide much-needed medical attention for talibé children, and they are busy the rest of the morning and afternoon with this and a myriad of other tasks. Then, beginning at 5 p.m., there is a rush at Maison de la Gare's center, as the talibé children arrive to meet with the volunteers. The volunteers first identify any children that need medical attention, and then they gather in the classrooms with the children for French, math and English instruction. The children are making great progress from a very low base, many of them reading, writing and performing simple calculations.

After school hours, volunteer Michaël Gobert brings his students to the library to continue their introduction to computers. With his help, their skills have greatly improved and many of them are communicating regularly with Canadian school children, the program launched in November by a Canadian student.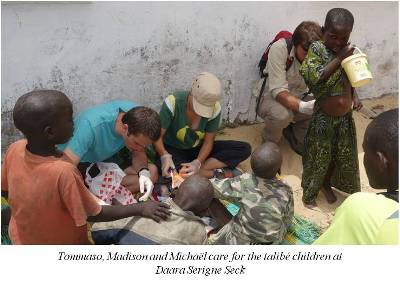 Michaël has taught the children to prepare better messages so as to be able to better communicate with their Canadian friends.

Madison, Gwen and Michaël were joined by Christine Thuault of France and Tommaso Arosio of Italy. All five live with Senegalese host families, and greatly appreciate their introduction to Senegalese life. Working with one of Maison de la Gare's teachers, Aida Dieng, Christine initiated literacy classes for talibé children in Daara Serigne Thiam; more than fifty children attend this twice-weekly introduction to French education. Tommaso supports all of Maison de la Gare's activities, but he is making his greatest contribution in his field of choice ... animating the sports program. He organizes tournaments between teams of talibé children, and he is much appreciated as a referee.

With their gentle and respectful approach, the volunteers change the lives of talibé children with whom they are working. But they will also be changed themselves. They are all making invaluable contributions to Maison de la Gare and to the talibé children it serves, and we thank them from the bottom of our hearts.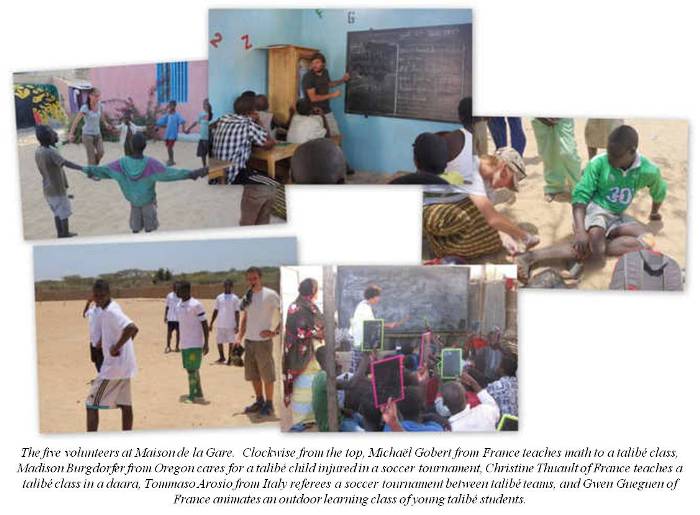 Tweeter
You would like to support our efforts? Please click here: