News from Maison de la Gare
Marabout Thierno Yéril Sow
Tweeter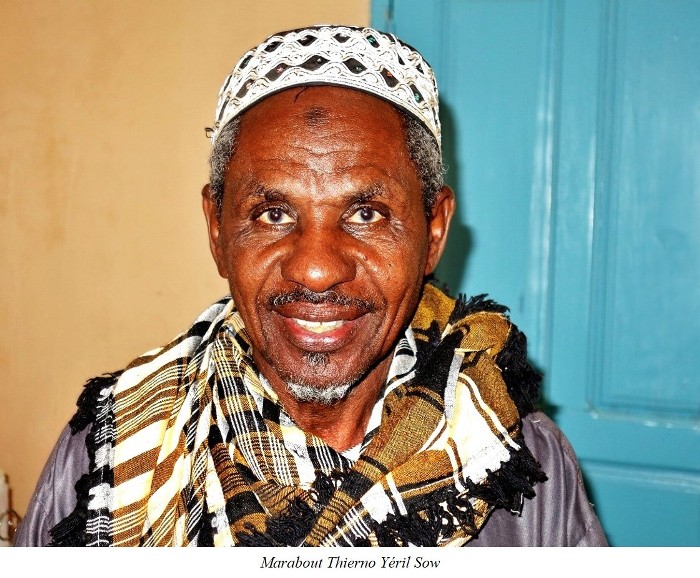 Issa Kouyaté praises an important ally in the struggle to improve the lives of the begging talibé street children
"You can't miss hearing his name in Saint Louis if you are speaking about modern or exemplary daaras. Thierno Yéril Sow has committed his life to early childhood care and he continues to demonstrate this working with organizations dedicated to vulnerable children, assisting them with the care and integration of victims of trafficking and of other abusive situations into safe environments.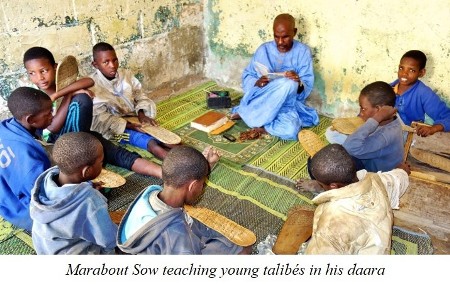 Thierno Yéril Sow has also provided Maison de la Gare's center with invaluable support in dealing with the challenges that can often impede our work, in particular attacks by some Koranic teachers. Most of these Koranic teachers or marabouts think that the reception centers have been established to stop Koranic teaching. Recognizing this, Thierno Yéril Sow realized that he could make an important contribution by clarifying Maison de la Gare's role with other marabouts, and by supporting us in getting closer to the daaras so that we can better aid the development of modern Koranic education.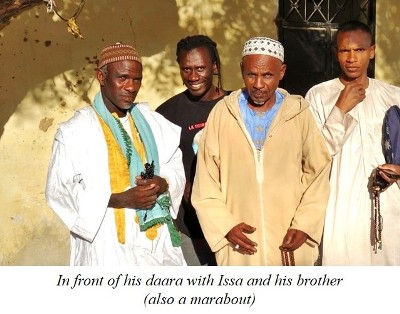 A man of great integrity who is involved in almost all our activities, Thierno Yéril Sow is one of the marabouts who has dedicated themselves throughout their lives to Koranic education for the benefit of talibé children. He set up his daara thirty years ago in the Fouta region of Senegal, before moving to Saint Louis. Since that time, he has contributed to the emancipation of daaras in the Saint Louis region, truly earning the designation of "modern marabout" which his colleagues have given him. He has become very involved with national and international organizations working for child protection, participating in forums and workshops in which he has demonstrate repeatedly his values as a marabout of integrity.

Consistent with his beliefs, Thierno Yéril Sow has supported his talibé students in participating in educational opportunities provided by child protection organizations such as Maison de la Gare.

Thierno Yéril Sow has now joined with Maison de la Gare as a marabout facilitator. He makes a unique contribution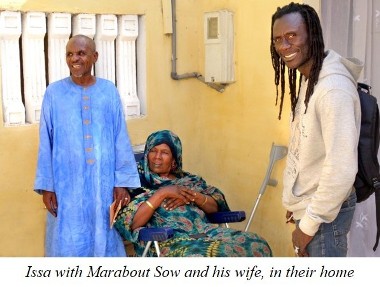 supporting investigations of abusive situations and of children found living on the streets, as well as participating himself as a member of our "night rounds" team. He has also returned some of the children found living on the streets to their home communities and is very involved as a mediator between runaway talibé children and their marabouts.

Thierno Yéril Sow's role as a mediator has served a vital educational role for the marabouts of the Saint Louis area, helping them to understand the critical importance of the work being done by Maison de la Gare and other child protection organizations.

We pay tribute to him for the countless hours that he spends for the benefit of the talibé children and Senegalese society."

_____________

One of the objectives set out in Maison de la Gare's bylaws is "To work in synergy with Koranic teachers to improve the living conditions of talibé children".

Marabout Sow is a shining example of the relationships that we strive to establish. He does his best for his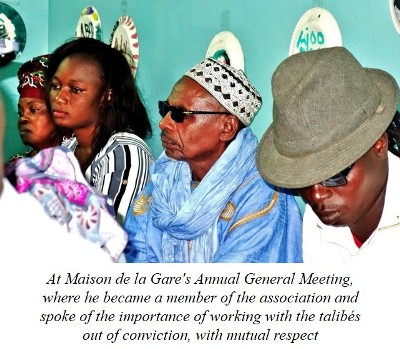 talibés within the limitations of his means ... they must still beg for their food. However, there is no abuse in his daara and there are no runaways. Many of the children are connected with "Godmothers" in the community who provide them with regular meals, and the sleeping arrangements are much better than typical daaras. And Marabout Sow supports the older youth in becoming established with small businesses.

Marabout Sow joined Maison de la Gare as a Member at the recent Annual General Meeting, where he spoke passionately of the importance of working with the talibés from conviction, with mutual respect.