News from Maison de la Gare
A Talibé's Hard Road Leads Him to Education
Tweeter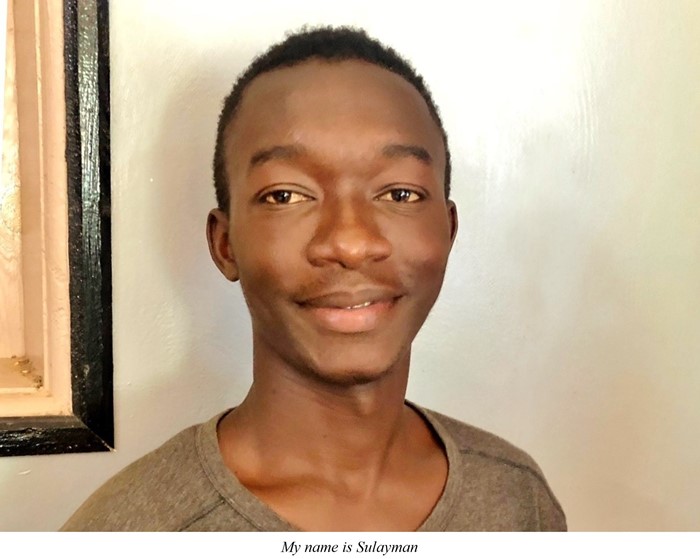 Sulayman tells in his own words his story of triumph over unimaginable obstacles
My name is Sulayman. I was born in Gambia, West Africa. I have six siblings and I am the third son of my mother. I spent much of my childhood and youth as a modern slave, first as a slave laborer then as a forced begging talibé. But education was all I wanted. Eventually I took control over my own life and found a way to go to school.

The way I became a talibé is a bit funny actually, in a tragic way. My elder brother and I would always be arguing about who was going to be a schoolteacher and who was going to be a marabout (Islamic teacher). I was the one that would say I want to be a marabout and my brother would say he wants to be a teacher, but I was not really being serious. One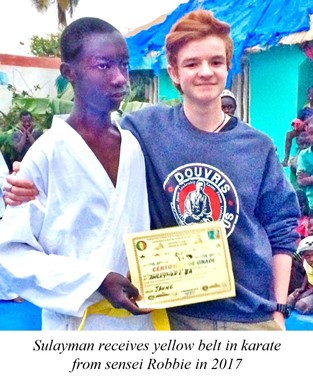 fateful day, my late father called my brother and me and asked if we were sure of what we were claiming we wanted to become, and we said "Of course!" I was very optimistic about it at the time as I was not familiar with the system of slavery that many West African marabouts practice. So, my father sent my brother to school, and he took me to one of his friends who was a marabout, to teach me the Quran.

Although I was learning the Quran, the teacher was extremely strict. He would not even allow me to go to see my parents. Sometimes I would go to visit my parents' house when I really missed them. My marabout would beat me up when he discovered this. I can still remember those beatings. I lived with him this way until he persuaded my parents to send me to a village in Gambia where I was given over to another man and left alone with him. I remember that, on the second day, my shoes disappeared. I started crying, realizing my life was to be real hardship. I was so young that I can't even remember what my age was.

There were many talibés in this village. We talibés were the laborers and we were forced to work on huge farmlands where we grew groundnuts and maize. We consumed some of this and the rest was taken for sale. We also took care of gardens for our marabout's son, cultivating mainly bananas and onions.

Our marabout had more than 400 talibés and there were only a few rooms for us to sleep in. It was like a prison inside our rooms; there was not even space to step or walk. For a long time, I had only the clothes I was wearing and no shoes on my feet while I had to do this hard work every day. Life in the village was like a hell for me, particularly in my first year before I got somewhat used to the situation. We did not have electricity so we would go to the forest every day to fetch firewood. We would burn that wood for our light at night and when we had to wake up at 4:00 in the morning to learn the Quran until 7:00 am. Then we would be sent to work all day.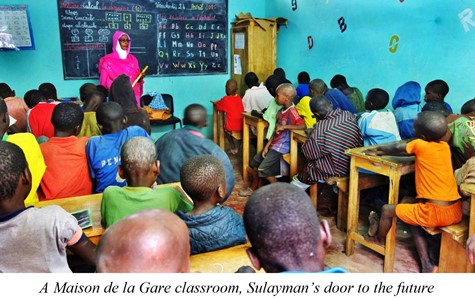 I was there in this village when my father passed away. I wanted to go home but was not allowed. My mum visited me there in the village only twice and I would cry when she was leaving. But she always told me: "I have no choice, Sulayman. Your Dad wanted you to learn the Quran and become a marabout and he always reminded me of this." So, there I remained until I was finished learning the Quran. But then my marabout decided to take me to Senegal to continue studying. This was how my journey to Saint Louis came about.

I was taken to Saint Louis with one of my daara-mates who was also a Gambian. When we arrived in the city around 8 p.m., we found that the daara was full. But the marabout let us stay there with some of his talibés despite it being overcrowded. I have such dramatic memories of that night!

I woke up on my first morning in Saint Louis and was sitting waiting for breakfast. We were famished after our long journey and the chaos of the previous day without food. One guy came and told us: "I know you boys are newcomers, but here in this daara you have to go out beg for food or look for job in order to survive." We of course had no money, so we went to the market with some of the other talibés to try to get jobs carrying people's stuff. We were paid very small amounts, not enough to even buy food. That was how we lived for several more years.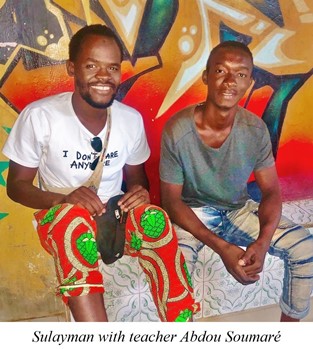 I was forced to do many tedious jobs in Saint Louis just for survival to take care of myself, and to be able to give my marabout money. No one took care of me even though I was a child. I remember that my first job away from the market was sweeping. There was a wicked woman named Adja that I was working for, and she was very mean to me. I did not understand the money, and I would wake up every morning and clean everywhere in the house up and down with no days off. For this I was paid 2,000 francs a week (about US$3.15). But this woman often would not even pay me that small amount, so I left there and returned to the market to earn what I could.

In 2015 I learned about some centers helping talibés like me. Whenever we were returning from working in the market, we would pass by Maison de la Gare to take a shower and sometimes watch films and play. We would often come back in the afternoon and eat free food they gave us. I joined karate classes too and I started falling love with it. Maison de la Gare was a break from my very hard life, and I spent as much time there as I could. I started getting used to the people at Maison de la Gare, and trusting them, especially the teacher Abdou Soumaré. He always would encourage me go to the classes and learn French or English, saying that this would help me a lot in my life.

I could not understand anything in either English or French at that time, so I found it pointless to sit in the classroom. I could not tolerate my life in the daara any longer, so I was eager to escape to Europe, through Libya or Morocco. Four of my friends had gone on that journey, and I wanted to do it too. That was the year I left the daara and went to Mauritania to try to find a better job and then make my way to Europe. But Mauritania was even a worse nightmare for me, even more terrible than living in the daara.

I returned to Saint Louis and finally took Abdou's advice. He had always been telling me I should try to go to Maison de la Gare' classes and at least learn to understand one language that could help me in my life. So, I started learning English with some of the volunteers at the center. I remained at the center until I started speaking a bit of English, and I even joined the karate dojo and earned my yellow belt.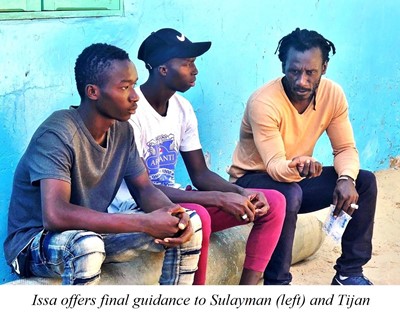 I went home to Gambia in late 2018, but found my mum had a heart attack and that my elder brother was not working. My uncle was the one taking care of the whole family. I felt that I needed to make a change, wondering how I could make my way through my entire life with only having learned the Quran. I refused to treat other children the way I had been treated, as slaves, so being a marabout was not for me. I felt quite useless in my family.

So I went back once again to Saint Louis, and my main objective was to try to support myself, enrol in school, get my certificate, and then start working to become the bread winner of my family. I refused to return to the daara, so I lived sometimes on the streets, sometimes in friends' rooms, and sometimes in Maison de la Gare's emergency shelter. I continued to attend the classes at Maison de la Gare.

I explained my situation and my desire to go to a real school to some of my talibé friends. One friend who motivated me the most to find a way to go to school was my friend Tijan, also from Gambia. Tijan and I have very similar stories. He was the one who would tell me "Sulayman, stop thinking about this back way of going to Europe. You can make it in your own country." He had returned to Gambia to go to school a few years before and was going to graduate from high school! He was in Senegal only briefly to visit Maison de la Gare. Tijan convinced and inspired me to return to Gambia, this time to go to school. Abdou and Issa Kouyate, Maison de la Gare's founder and president, gave us both some advice and wished us well. Tijan and I returned to Gambia together.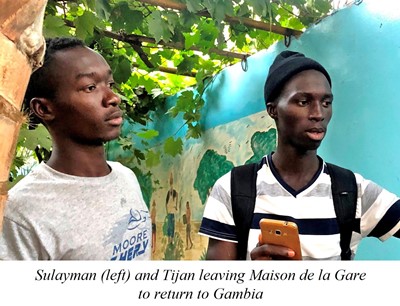 Today I believe that everything in life is possible. You just have to believe in yourself and give it a try. If I didn't believe in myself so strongly at this point, having already been through so much hardship, I would have dropped out of school the very first week that I enrolled. I will never forget … I earned zero out of one hundred in my very first test in school. The teacher called me in front of the class and embarrassed me in front of everyone. But I didn't give up or think "Well, I am stupid and I can't do this." Instead, I was like "Ahhh, this is my first time in school, so it's not the end of the world. I'll do better next time after I learn something."

I thank God now, Alhamdulillah!! that I stuck with it. I have learned much and improved a lot, advancing through all my high school grades. I am not bothered that I am so much older than my classmates. I have completed my high school studies with the help of tutors to get caught up for all the education I missed as a child. And I have qualified to write the WASSCE, the West African Senior School Certificate Examination, which I will be attempting this year.

My hope now is to get good results in my upcoming exams. My high school diploma and good exam results will hopefully open the door for me to further my education. I hope my hard work and perseverance will give me the chance to go to university, to continue my education. I want to do it for myself and for my family. I believe education can brighten my life; it is the way.