News from Maison de la Gare
Voluntering with Maison de la Gare
Tweeter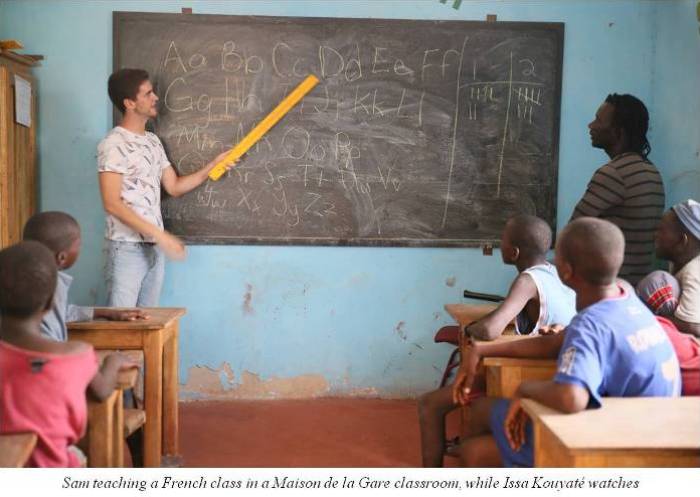 Reflections from Sam Whaley, while volunteering with Maison de la Gare
"Well here I am in Saint-Louis, Senegal, and it sure has been quite the adventure already.

I flew into Dakar a few weeks ago and, from the start, I was impressed by the level of organization that Maison de la Gare displays in terms of getting its volunteers to Saint-Louis. Just outside the airport, I easily spotted the man holding the sign with my name, who kindly led me to the hotel where I would be staying the night. The hotel, breakfast, and taxi that took me to Saint-Louis the next morning were all prepaid by Maison de la Gare, and I never felt unsure of what to do or where to go. In an environment where I was immediately out of my comfort zone, this organization was certainly welcome.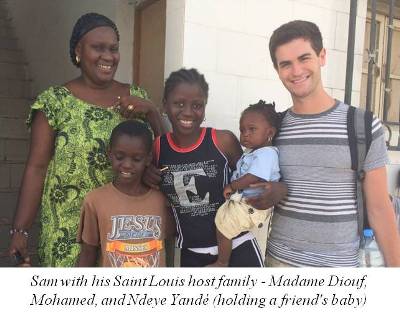 The drive from Dakar to the northern city of Saint-Louis lasted about four hours, and I spent the drive's entirety staring out the window as we drove through small villages full of mango-vendors, past gorgeous mosques which stood out against the rest of the simpler buildings, and over desert that seemed to stretch on forever.

In Saint Louis, I was taken directly to meet my host family and, as anyone who has stayed with a host family before knows, it is simultaneously the most nerve-wracking and most exciting part of the trip. I quickly saw, however, that I had no reason to be nervous as the family of six (I think… there seems to always be guests over) welcomed me as one of their own, preparing deliciously spicy food and speaking slowly so that I could understand their accents that drastically differ from the European French accents with which I was familiar.

Every afternoon, I come home and my host sisters bring me my lunch, which is very considerate as the day I arrived was, by coincidence, the first day of Ramadan. This means that I, as a non-Muslim, am the only person in the family who eats or drinks between sunrise and sunset. From what I've been told, this month of fasting changes the feeling of Saint Louis significantly, as many spend the scorchingly hot afternoons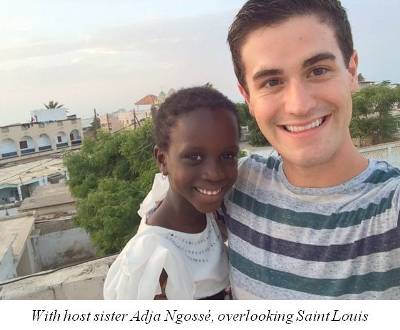 resting so as to conserve the energy they lack from fasting all day and resting little at night. At around 9 p.m., the entire family gathers around a large, communal dish of what is typically rice and fish for dinner. This is an awesome time for the family to come together and for me to get to find out a little more about them and Senegalese culture in general.

And now the reason I'm actually here, Maison de la Gare.

I start my Monday through Friday mornings at 10 a.m., heading out into the bright sun and walking the 15ish minutes it takes to get to the center. I take a break during the hottest part of the day to eat lunch at home and return around 4:30 p.m. and stay until about 7:30 p.m.

While I signed up to be an education volunteer, I do a wide variety of activities with the talibé children. For those of you who don't know, the talibés are a group of boys who attend Koranic school under the direction of a marabout. They live together in very poor conditions and are often abused, denied education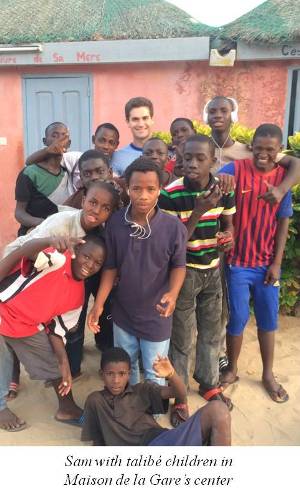 in any other subject, and forced to spend a significant amount of time begging for money for their marabout.

Maison de la Gare's center is a place where the boys have access to education, basic health care, and more of what they miss out on. The center is comprised of the administrative office, the library where the kids can use their French skills and broaden their vocabulary, a small kitchen where their evening food is prepared, the infirmary where they can get some healthcare, showers, classrooms, and a big open area with a garden where the kids play soccer and spend the majority of the day.

I spend most of my mornings giving one-on-one or one-on-two English lessons, which are primarily aimed at the older boys. I teach these lessons in a mixture of French and English, helping some talibés with basic vocabulary and the alphabet and others with more difficult grammatical structures and tenses. In the evening I teach the younger kids French. This would normally take place under the supervision of the center's own Senegalese professors, but as they take the month of Ramadan off, I am the sole professor during my stay. I have had some experience teaching foreign languages, but without a common language to fall back on when things get too complicated, it has proven to be incredibly challenging. Even given that, I still feel that I've made some progress – at the least, they can introduce themselves in French!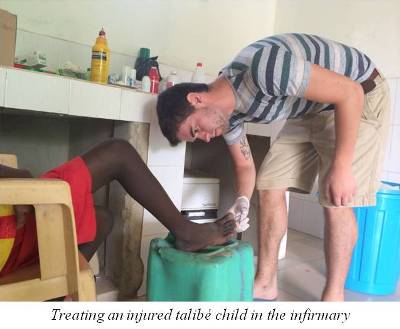 When not teaching, I play cards or checkers with the smaller kids with whom I communicate through gestures and expressions. But even with this limited communication, I am able to see how grateful they are to have somewhere to just be kids, to not have to worry about begging or food or any of the other worries these children should never have to think about. When I first arrived there was another volunteer from Sweden at the center who was in charge of the infirmary, but she recently headed home, leaving me with that responsibility as well. When needed, I clean and disinfect the children's cuts and scrapes, but with the limited supplies and medications, I often feel myself wishing I could do more. I just keep reminding myself that the little that I provide them is better than the nothing they would otherwise have.

Maison de la Gare's director, Issa, is an incredibly hardworking man who has had a huge impact on the lives of these children. Under his and the other staff members' direction, Maison de la Gare has become a haven for these children and continues to become even more incredible. With the help of GO Campaign, the center will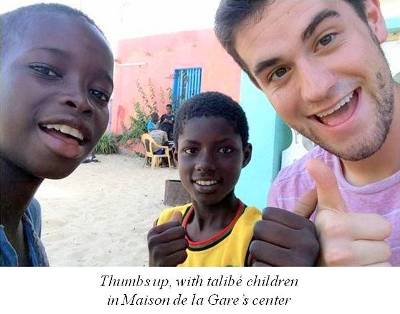 soon be opening a new building that will serve as an emergency shelter for children in crisis as well as a new kitchen. New volunteers are always coming and going, sharing their ideas for how to continue to make the center a better place for everyone. While my stay is short at just under a month long, I've already seen what great places Saint Louis and Maison de la Gare really are.

My time here has been unlike anything I've ever experienced, and I've come to appreciate the cultural differences and see the beauty of these people who are so content with what is considered so little by American standards.

It's been an experience I won't ever forget, and I look forward to the possibility of returning in the future."

Thank you to everyone who supports Maison de la Gare so generously to make its work, and Sam's experience, possible.