News from Maison de la Gare
Five Boys on the Run
Tweeter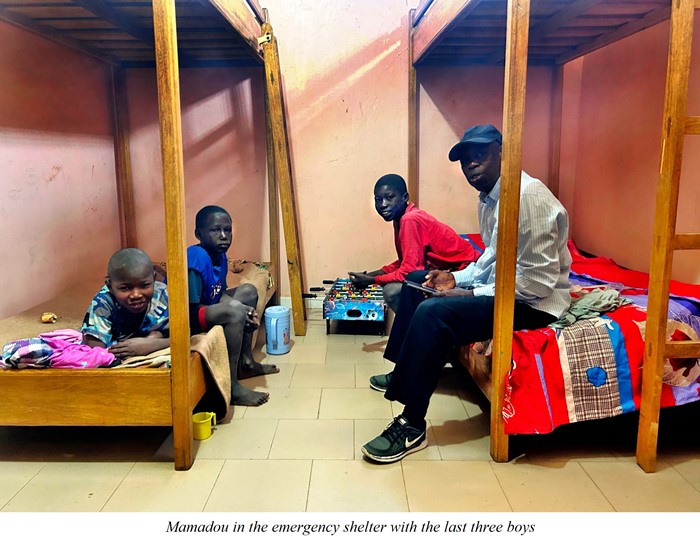 One of dozens of stories of desperate boys rescued by Maison de la Gare and reintegrated in their families
At 11 p.m. on a recent Friday evening, Mamadou Gueye – a member of Maison de la Gare's night rounds team - received a call from the police in the town of Rosso on the Mauritanian border about 100 km north-east of Saint Louis. They had found five boys on the streets of the town and called Mamadou because they knew him from the awareness campaign that Maison de la Gare ran there some years ago. Mamadou immediately headed to Rosso, and made it back to Maison de la Gare's emergency shelter with the boys in the early hours of Saturday morning. All five boys spent the weekend in the shelter.

As often happens with run-away boys, on Monday morning they would not initially tell Mamadou where they had come from. However, they eventually told him that their daara was in a small town quite close to Rosso.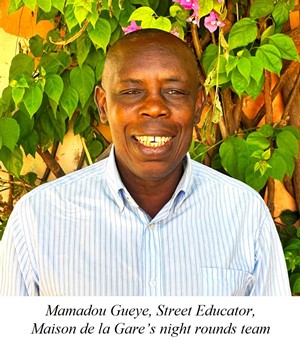 Mamadou knew the Chef de village from the awareness campaign, so he called him to get the name and number of the marabout. When Mamadou reached the marabout, it turned out that he was in Dakar, leaving his large daara in the charge of the grands talibés, the older boys who are often the worst offenders.

The marabout called his daara and had one of grands talibés go to Saint-Louis to bring the boys back. When this older boy arrived at Maison de la Gare's center at around 2 p.m., Mamadou would not let him have the boys. He called the marabout again and told him that he must come himself. The marabout instead had two other grand talibés come to Saint Louis.

By this time, however, Mamadou realized that he would have to locate the families himself. The first one was the easiest; one of the boys knew his mother's phone number and he gave it to Mamadou. When Mamadou called, he learned that she was a government worker living near Dakar. She was shocked to learn what had happened to her son, and she arrived at 10 p.m. Monday evening to get him. They arrived home at 4 a.m. on Tuesday, and the mother will keep him home now and not return him to the daara.

The second boy was harder. He gave the address of his grandmother in Rufisque, just east of Dakar. Mamadou has contacts with ADE, Avenir de l'enfant,
another child protection organization committed to supporting and reintegrating talibé children. ADE is active in Rufisque, and they agreed to help. The grandmother's address turned out to be incorrect. The child then gave a new address, and this time ADE was able to find the parents. They also came to Saint Louis to reclaim their son, and they agreed that he will live at home from now on.

The third boy would not give any information, but it turned out that the mother of the first child knew the third boy's family, also in Dakar. Mamadou was able to reach them by phone, and they also came to get their son.

By Tuesday night, there were only two of the boys left in the shelter, and they were starting to worry about what would happen to them. Finally, the fourth boy gave his parents' phone number to Mamadou, and they too came to recover their son.

The fifth boy was a more difficult case. The Rosso police advised that this was the fifth time he had been picked up. In fact, the marabout had come on Monday to take this boy back to his daara but, during our night rounds on Tuesday, Mamadou found him again in the Saint Louis bus terminal, the Gare routière. After much effort, he was able to get the boy's parents' phone number from a second marabout. On Thursday they came to take their boy home. The accompanying photo shows this boy in new clothes, genuinely happy to be returning to his family.

This is just one of many dozens of such stories every year. Thanks to Mamadou and Maison de la Gare, these five boys are home with their families and will no longer be subject to forced begging living under sub-human conditions in an abusive daara.