News from Maison de la Gare
A Year to Remember
Tweeter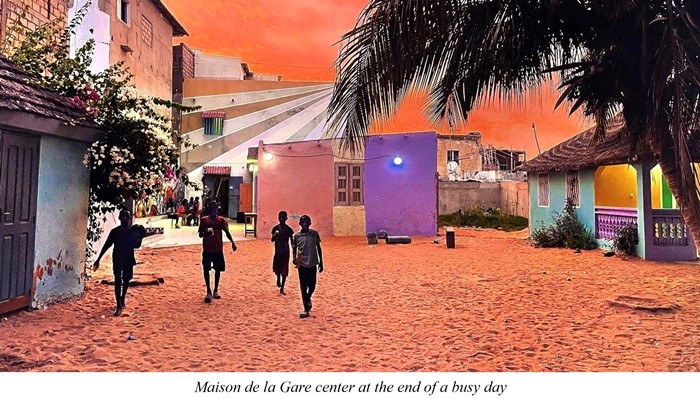 A portrait of Maison de la Gare's efforts for the talibé children in 2021
We regularly share stories of individual children supported by Maison de la Gare and of our various programs, all of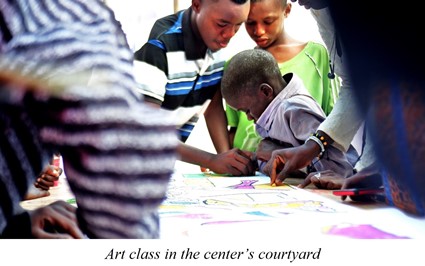 which are conceived to improve the lives of these children and to give them hope for the future.

It is our faithful supporters around the world who make this possible. We want to be accountable to you and will give you here an overview of the impact that you have had in 2021.

Maison de la Gare's center in Saint-Louis is at the heart of everything that we do. Noël welcomed and registered a total of 2560 talibé children entering the center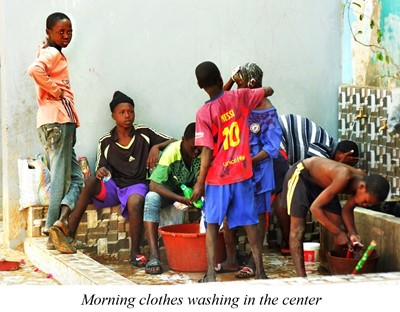 in 2021, an average of 660 children making 2712 visits each month. About 11% of these were 6 years of age and younger, almost impossible to believe, and the rest are mostly between 7 and 18.

Two thirds of the children come from families in all corners of Senegal while the rest have been trafficked from neighboring countries, 17% from Guinea-Bissau, 12% from Gambia, 5% from Guinea and a few from Mauritania. All these children are living as virtual slaves in 127 different Saint-Louis daaras, far from their families or any emotional support and without any of the necessities of life … clean water to drink, decent hygiene facilities, safe and warm sleeping areas and even regular food. And they are forced to beg for 6 to 10 hours each day for their food and for a payment to the marabout who controls them. Maison de la Gare is their window onto a better life.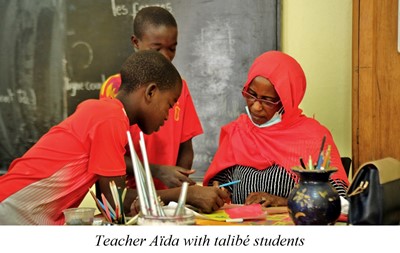 Once in our center the children wash their clothes, take showers, read books and watch films in the library or just hang out, safe for a brief moment from the dangers of the street. Nurse Awa treated on average 195 of them each month of 2021 in our infirmary. Cuts and other wounds are most common, with skin diseases, in particular scabies, being close behind. And, in order of frequency, eye problems, tooth pain, burns, diarrhea and malaria.

Our teachers Bouri and Aïda offer literacy classes every day, and Abdou organizes and teaches the children through games and other activities. 33 children participated regularly in classes in the centre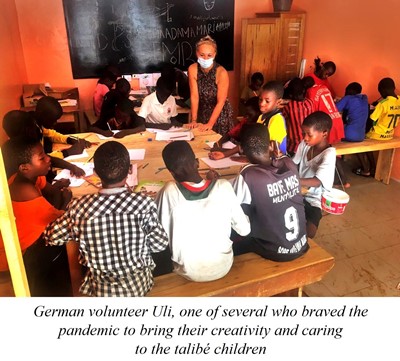 in 2021, and 50 others were taught in their daaras. Abdou also provides clothing for children in the most desperate need, averaging 70 each month.

Lalla has the children involved in pick-up games of soccer, which they love passionately. She organized 30 matches between different daaras during the year, culminating in a dramatic final in a local stadium. Buaró leads regular karate classes for 20 committed youth in our center several mornings each week, and 35 older talibés train every night in a local dojo. Karate offers them self-confidence and pride, and a realization that they are children like any other, worthy of their basic human rights.

Every year we are more aware of the need to give our older talibés the skills they need to make their independent way in the world and become self-sufficient.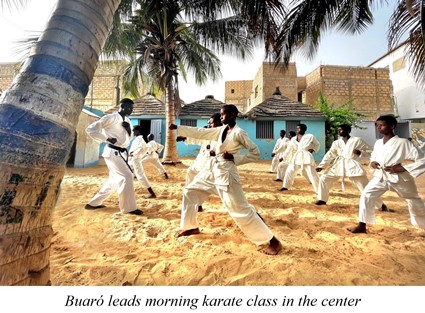 In 2021, Baka and Kalidou guided 35 youth to graduating successfully from our sewing apprenticeship program, and Cheikh Ablaye and Samba led 13 others to success in our poultry farming apprenticeship program.

Our new microfinance program is linked to this objective for the older talibés; we hope that it will be an invaluable support in their journey to independence. The program expanded during the year to 86 loans, 19 of them to budding talibé entrepreneurs.

Perhaps the most difficult job in our center is in our emergency shelter. Mamadou and his night rounds team recovered 128 children living on the street during the year. Aby and the team in the shelter received them, listened to their stories,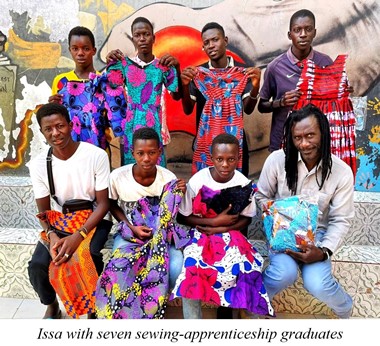 and worked to find the best way forward for each of them. 58 were returned to their families in their home communities, 50 were reintegrated in their daaras, 13 were referred to other centers and seven ran away.

Finally, our program designed to retain boys in their home villages had a very promising year. 204 boys and 131 girls attended regular classes in the six schools built under this project in the Mbaye Aw region close to Louga. Many of the boys were talibés in Saint-Louis and elsewhere and had returned home for school. And, thanks to being in school, the girls are now much less likely to be forced into premature marriages.

The need is so great and there is so much more to be done. But Maison de la Gare and its committed team has a great deal to be proud of.