News from Maison de la Gare
Yes, Change IS Possible
Tweeter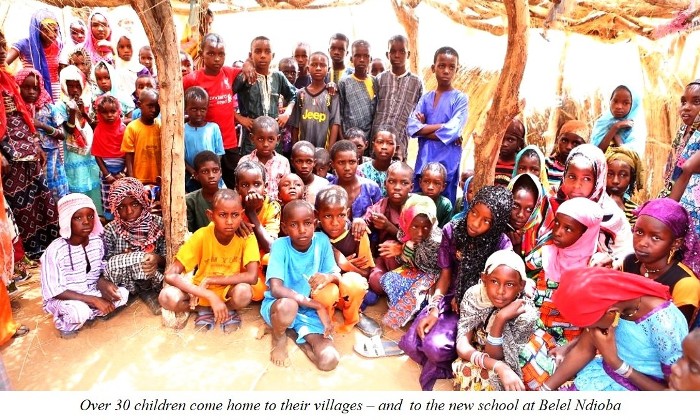 Cheikh Diallo is achieving a miracle, modelling a better childhood for begging talibé street children
When Ndèye's husband sent her 8-year-old son Samba from their home in Thiagale to a daara in faraway Louga, Ndèye collapsed on the ground sobbing. She was inconsolable and ate very little for many months. She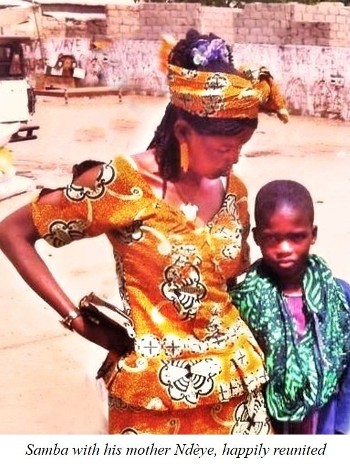 was permitted almost no contact with her son. As the weeks and months went by, she became weaker and weaker, and no longer wanted to live. Ndèye begged her husband to allow the boy to come home, but he would not consider this. Eventually the family concluded that Ndèye had a serious illness, and they sent her to the hospital in Dahra Djoloff. Saint Louis shoemaker Cheikh Diallo became aware of this situation. Ndèye's village of Thiagale is close to Cheikh's own village, and it is one of the four places where he has built schools. Cheikh presented Samba's father with an ultimatum … bring the child home or Cheikh would do it. The father relented and called Samba's marabout, giving Cheikh permission to get the and bring him home.

Cheikh describes the reunion of mother and child in the Dahra Djoloff hospital in a scene reminiscent of Lazarus being raised from the dead. Ndèye was slumped in her bed, near death. When she saw her son she screamed and embraced him and, apparently, was instantly recovered. They returned to Thiagale where Samba is now one of the students in the school that Cheikh build there.

We visited Cheikh's schools in the Mbaye Aw region two years ago, and told his story in an earlier report. Believing that boys should not be sent away from their families at a young age, Cheikh resolved to build schools for them near their homes. His first school was in Medina Alpha where the village chief offered his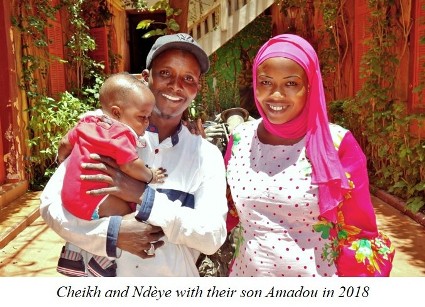 daughter – also named Ndèye - in marriage if Cheikh truly completed the school. Cheikh and Ndèye are now very happily married and have just had their second child. When we visited, there were three thriving schools, in Ndigueli, Thiagale and Medina Alpha, while a fourth in the village of Belel Ndioba had failed due to lack of funds to pay the teacher.

Mouhamed, a talibé who had come home from begging in Dakar to attend the new school in Medina Alpha, was at the top of the first graduating class. Cheikh supported him in attending the 5th grade in Kaolack where Mouhamed again excelled. When his host family moved away however, Cheikh brought Mouhamed to live with him and continue his schooling in Saint Louis.

Djibi was also a student in the first classes in Medina Alpha, but academics were not his passion and he had to repeat the 4th year. All he wanted to do was to play soccer, and he excelled at this. Now also with Cheikh in Saint Louis, Djibi is registered in a soccer school and shows great potential to develop as a professional athlete.



The three surviving original schools are doing well, although it is a constant struggle for Cheikh. At Ndigueli, 7 km from Dahra Djoloff, 35 boys who would otherwise be begging talibés and 25 girls attend regular classes. Happily, the father of three of the children is a storekeeper in Dahra Djoloff and he pays the salary of the teacher.

The school in Thiagale, where Samba is now, has two teachers and they share a modest monthly contribution from Maison de la Gare. The villagers provide free food and accommodation for the teachers and food for the students. School supplies are the major challenge here, and Cheikh has financed these through contributions from his own network of contacts and from his own meager earnings.

At Cheikh's original school in Medina Alpha where Mouhamed and Djibi had their start, the government has been convinced to provide two teachers for the approximately 50 students. One of these teaches math, language and other subjects in French, while the other teaches English and sports. Here also, the villagers supply food for the children and the teachers and Cheikh does his best to cover the necessary school supplies.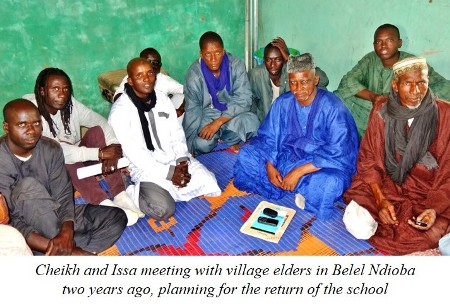 It was at Belel Ndioba where we had met during our earlier visit with the village elders discussing possibilities for replacing the school which had failed after Cheikh had been unable to pay the teacher. In fact, this is the most hopeful story of all. Two marabouts from the village had set up their daaras in distant cities with children who were also from the village and surrounding area. Cheikh convinced both of these marabouts to return with their children. Thierno Kalidou brought 11 talibés from Richard Toll in the north, and Thierno Omar Kâ brought 22 talibés from Kaolack in central Senegal. The two marabouts have combined their children in a new school, pictured at the beginning of this report, and this school now has a total of 36 boys and 35 girls! The marabouts teach classes in Arabic while a teacher from the Thiagale school teaches math and other subjects in French.

Meanwhile, at his shoe-repair stall on a street corner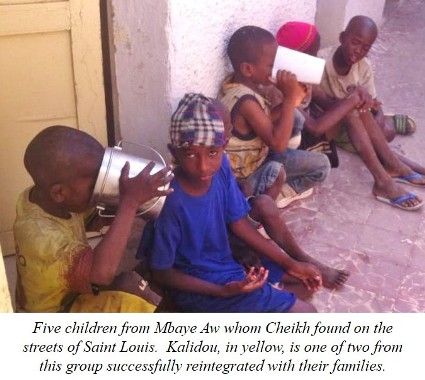 in Saint Louis, Cheikh continues to connect with talibés from the Mbaye Aw region, and works with the children's families and their marabouts to return as many as possible to their villages and register them in one of the schools. The final photograph in this report is one of many groups of these children. In this case, Cheikh took this photograph home to his village and showed it to the children's families, explaining how he had found their sons on the streets at night. Two of the families relented and accepted their sons back home.

During a recent visit with Cheikh at Maison de la Gare's center, our administrator Adama Diarra said, "If there were twenty more like Cheikh in Senegal, there would be no more begging talibés."