News from Maison de la Gare
A Living Memorial in Maison de la Gare's Library
Tweeter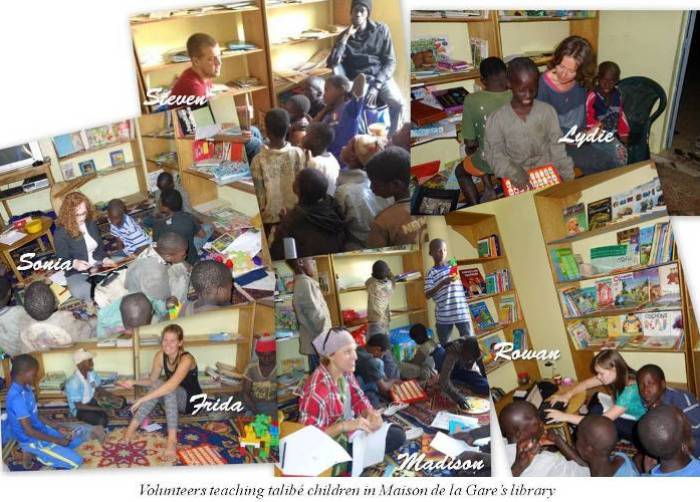 Strengthening a resource at the heart of Maison de la Gare's Center
The library has become the heart of Maison de la Gare's centre in Saint Louis for many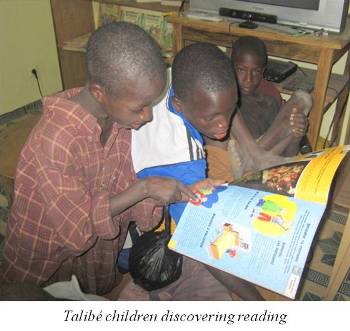 of the talibé children. This amazing resource was made possible by a generous donation from the Stockholm International Rotary Club, and it opened to the children in the fall of 2011. The Rotary donation covered bookshelves, furniture, painting, a TV and DVD player, DVDs, intelligence games, teaching materials such as paper, watercolors, modeling clay, and art supplies, and several hundred books.

Almost immediately, the children began to discover the magic of books and reading. We have many pictures of boys enthralled as they thumb through books for the first time. Reading to talibé children in the library has become a favorite activity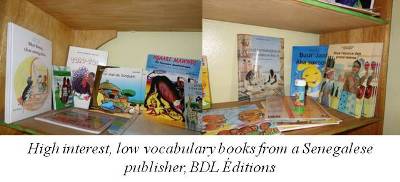 for Maison de la Gare's international volunteers, and the children love this as well. Teachers, and the volunteers supporting them, have come to use the library's resources as an integral part of their teaching programs.

It is challenging to find appropriate books, for children who have little formal education but may be ten to eighteen years old. We look for "low vocabulary, high interest"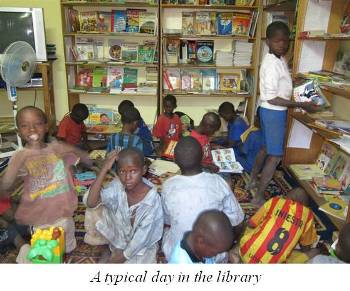 books, with subject matter which is appropriate for these begging street children. They love technology subjects and books that focus on different areas of the world, and stories of children with whom they can relate. A Senegalese publisher, BLD Éditions, produces some very suitable books in French, or French and Wolof, and we have purchased many of these with the help of Canadian donors.

In early 2012, three computers donated by Associaciò Un Petit Pas of Catalonia, Spain were installed in the library, greatly enriching its mission. Talibé children in the library now connect with "penpals"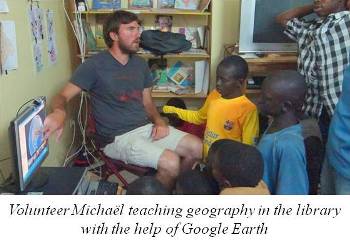 in Canada and, via Facebook, with former volunteers and others around the world. The computers are also great teaching tools, for example using Google Earth.

The most recent and most moving donation to the library consisted of 142 books delivered in late 2014 from Francine Perkal who, at the time, was in the last days of her courageous struggle with cancer. These books, all in French, are a remarkable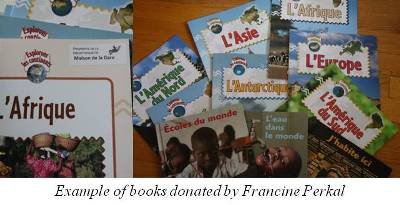 collection of teaching materials suitable for all levels of learning readers ... collections of the continents, Olympic games, books of discovery, travel around the world, sounds and learning to read, water around the world, animals, atlases, and much more. The children of all ages are enchanted by the new worlds that these books open for them.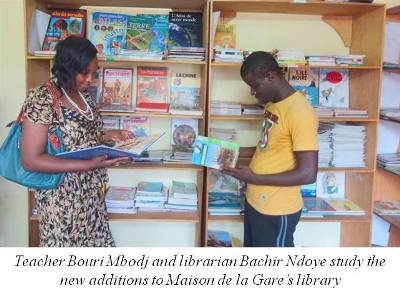 We are grateful to everyone who has contributed to making this wonderful and transformative resource possible. There is still lots of room on our shelves, if you can help!

There is an African proverb that says, "When an old man dies, a library disappears." But Francine has not disappeared in our eyes; she is still here in the books that show us the ways of the world, and will always be with us with her smile, around the children, around the center and above all forever.
_____

This article is dedicated to the memory of Francine Perkal, a devoted Canadian teacher who succumbed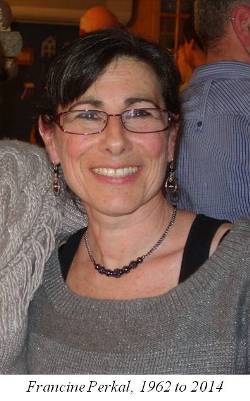 to cancer on December 21st, 2014. Francine was passionate about books. A long-time supporter of Maison de la Gare and its library, one of her last wishes was that her lifetime accumulation of book credits be used for the talibé children; over $1,000 worth of books were delivered to the library shortly before her death. Issa Kouyaté wrote in response: "I am truly devastated that this woman has been struck by cancer. It seems that only the best people disappear too quickly, but they always leave behind them the marks of their goodness." Issa proposed that these books be labelled accordingly: « Property of Maison de la Gare's library from Francine Perkal, a cancer victim who gave her credits to the most vulnerable children. Treat with care. And thank you to Francine; may God take you into his care!". He added "This is just a way to thank Francine, whose memory will live on forever in Maison de la Gare's library."