News from Maison de la Gare
American Ambassador at Maison de la Gare
Tweeter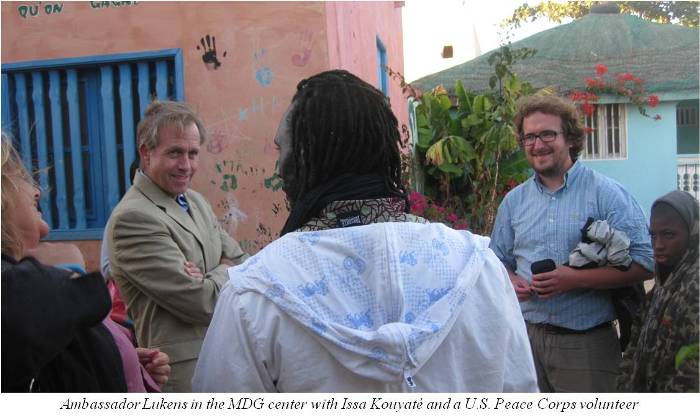 Visit of United States Ambassador Lewis Lukens to MDG
On Thursday, January 23, 2014, Maison de la Gare was honored to receive the visit of Mr. Lewis Lukens, Ambassador of the United States to Senegal.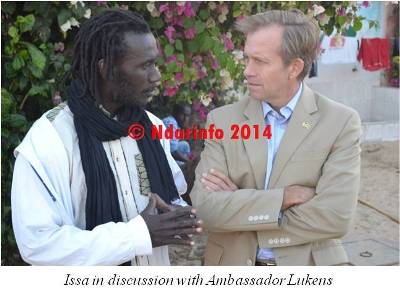 Upon his arrival in Senegal, Mr. Lukens was shocked by the situation of begging talibé street children. To combat this scourge, Mr. Lukens invited other foreign ambassadors to Senegal to discuss this problem with him, and to act. He subsequently organized a round table with local organizations working for children, including Maison de la Gare, to find with them practical avenues for improving the situation. Thus, Ambassador Lukens has given himself a second mission in Senegal in addition to his diplomatic role ... to help to improve the lives of the talibé street children. In this context, he travelled to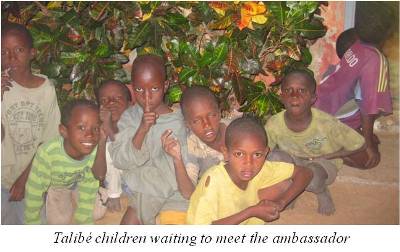 Saint Louis to visit Maison de la Gare and to see and experience this organization's struggle on behalf of the talibé children.

It was around 5:30 in the afternoon that Mr. Lukens entered the gates of Maison de la Gare's Saint Louis center, accompanied by Ms. Elisabeth El Khodary, his Economic, Commercial and Policy attaché. He was warmly welcomed to the center by MDG's president, Issa Kouyaté.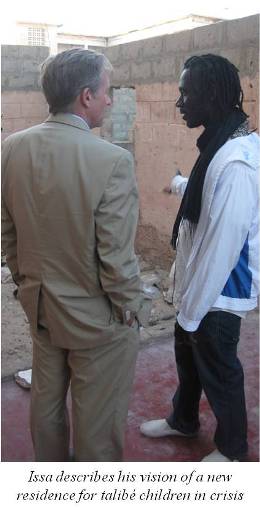 The talibé children in the center were amazed to see such an important personage coming to enquire into their lives and situation. Seeing the intense involvement of the children in their activities, Ambassador Lukens took time to observe them, and then to congratulate them and to chat with several of them.

Issa then took the ambassador on a tour of the entire center, visiting the administration office, the library, the infirmary, the garden, and the classrooms. He also visited the location where Maison de la Gare plans to build a transitional residence for talibé children in crisis, where Issa explained this vision for this new initiative.

After the tour, Mr. Lukens and Issa met and discussed in the center's office, together with Ms. El Khodary, the center's administrator, and two U.S. Peace Corps volunteers stationed in Saint Louis. The discussions focused on Maison de la Gare's work, its achievements and the challenges which it faces. The Ambassador reassured us that, despite the limited time remaining to him in his posting in Senegal, he will use his influence at the policy level to change things so that the talibé street children can look forward to a better tomorrow.

Our appreciation to Saint Louis web news journal Ndarinfo for permission to use several of their excellent photographs of this event.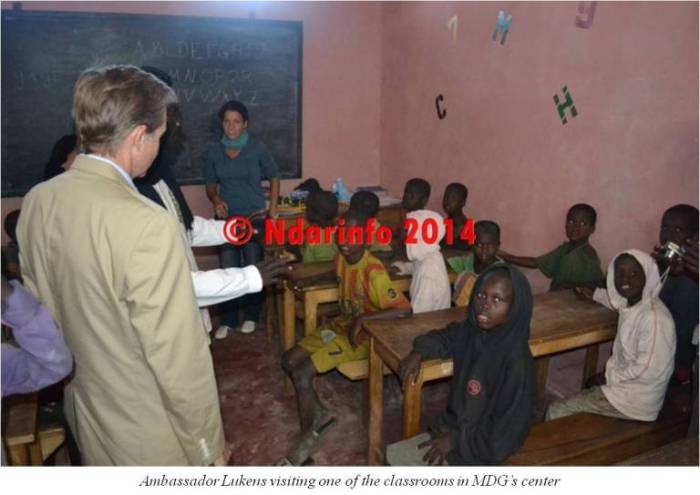 Tweeter
You would like to support our efforts? Please click here: