News from Maison de la Gare
From Begging to a Promising Future
Tweeter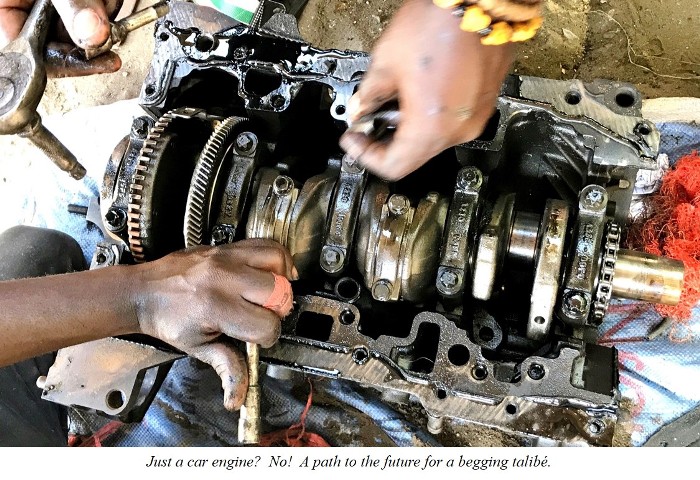 Issa Bâ shares his dream to become an auto mechanic
Issa Bâ is a talibé from the region of Kolda. Kolda is in the far south of Senegal, far from Saint Louis.
Issa has been in Saint Louis for years begging and working to meet his quota for his marabout and studying the Koran a few hours a week, while spending as much time as he can at Maison de la Gare where he has friends and can rely on people to watch out for him.

Now, as an older talibé transitioning away from forced begging, Issa is taking full advantage of the opportunities Maison de la Gare has to offer. A few months ago, he was offered a leadership role at the center, which he proudly accepted. Now he is responsible for general maintenance and cleanliness of the center's emergency shelter as well as assisting the younger talibés with hygiene. The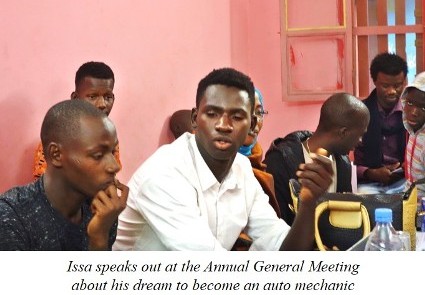 possibility for some older talibés to be members of Maison de la Gare's staff provides a stepping stone between forced begging and independence, allowing these youth to be freed from forced begging even though they have not yet developed enough in education, skills or training to live successfully on their own.

While working daily at Maison de la Gare, Issa Bâ is also a dedicated mechanic's apprentice. Upon learning of opportunities to acquire skills though Maison de la Gare's apprenticeship programs, Issa spoke up at the organization's annual general meeting last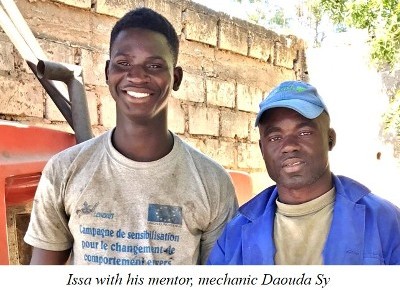 November about his dream of learning to become an auto mechanic.

Now, Issa is in training at the mechanic shop Atelier Mame Dabakha Sy. The manager, Daouda Sy, is impressed with Issa's dedication and diligence and thinks he should be ready to work independently as a mechanic in two years.

Issa arrives at the shop every morning at 9 a.m., remaining until 3 p.m. Two days a week he returns to his daara to study the Koran for about an hour. The days he does not have Koranic studies he remains at the shop longer, eager to put in the training hours that will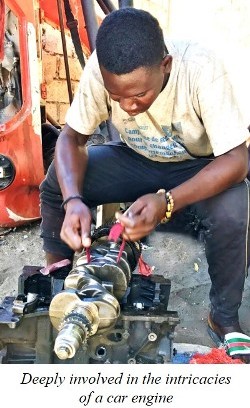 lead him closer to his goal. Then, at 5 p.m., his work at Maison de la Gare begins.

Issa is also a karate student and trains each night at the Sor-Karate dojo for several hours, developing his passion for martial arts. A few years ago, he became curious about the morning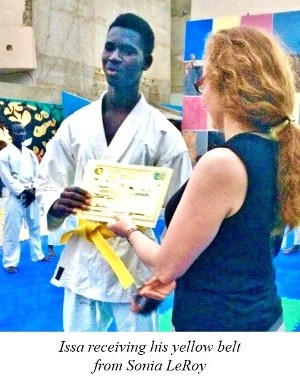 karate classes in Maison de la Gare's center, and he soon joined in. Issa is in training for his orange belt now. Donors have sponsored him for membership at the Sor-Karate dojo.

Issa dedicates himself to each of his pursuits with uncommon dedication, recognizing his opportunities for what they really are: hope for the future. Due to his skill and persevering attitude, he was invited to join the karate competition team and has had the opportunity to travel with the team several times for regional and national combat and kata competitions.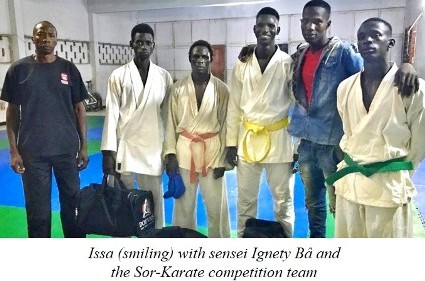 After years of forced begging, Maison de la Gare made it possible for Issa Bâ to come a long way in a short time. He is a leader, a role model for young talibés on their own and far from family, talibés without education or skills or any idea of how to obtain them. Issa is apprenticing for work he loves. And, his development as a martial artist is gaining him not just self-defense skill but confidence and respect. And, the stamina and discipline to help him through the long days that are necessary to achieve his goals.